Once upon a particularly boring time, there was no Apple App Store or Google Play Store. Consequently, There was no reason for you to build a mobile app in Cameroon.
But not until 2010, when the word "App" became the word of the year. Since then, mobile apps have taken over our lives.
We use them to chat, find jobs, send money, pay bills, monitor our health, study, you name the rest.
Some companies can't do without mobile apps because of the benefits.
One question for entrepreneurs and developers in Cameroon is:
Out of the 33 categories of apps in Google Play Store, what category of apps are people downloading most in 2020?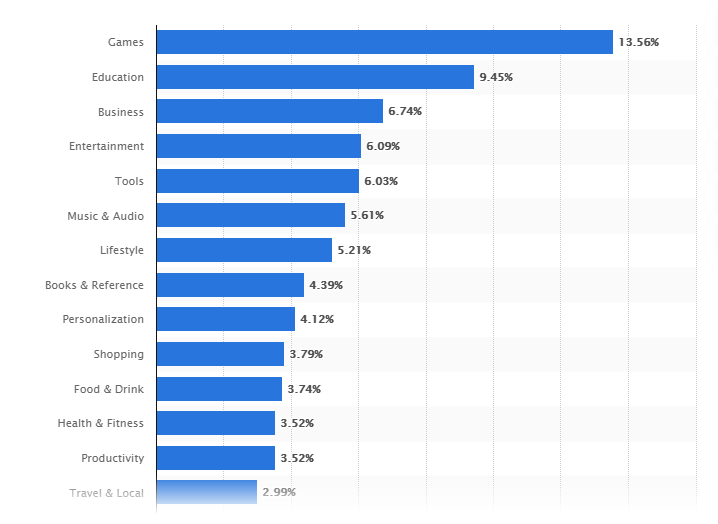 Gaming
By the end of 2019, the global gaming market was estimated to be worth $152 billion, with 45% of that ($68.5 billion) coming directly from mobile games.
Pro Tip: When developing your mobile game app in Cameroon, create games that are challenging but not too hard for a player to give up. Do this right and you'll get people spending 8 – 10 minutes in your app per session. This will go a long way to help generate revenue.
Examples of Gaming Apps:
Clash of Clans (Android), Candy Crush Saga (Android), Angry Birds Go (Android), Temple Run (Android), Solitaire (Android), Trivial Crack (Android).
Education
Self-education is the trend now. You can learn Bassa really fast.
Check out Stephanie-Rose Nyot's "Je parle le Bassa 2.0." https://www.youtube.com/embed/4MZ8h0ieeWs?showinfo=0
Think about it. How many languages are spoken in Cameroon? What if you could create an app to teach your native tongue.
Pro Tip: Target the diaspora with such an app. You'll be able to monetize fast.
Business
When you go through Cameroonian built apps on Google Play, the business category is full. Developers understand that people want to automate, edit, access data, do financial transactions all in their smartphones.
Pro Tip: Smartphone users value independence, control, and organization. Build something within these lines.
Lifestyle
Have you ever thought of how diverse a country we are? Our culture is very rich. From food to dressing. There is just so much to share.
Pro Tip: Music culture is booming right now. Dating too. Think of other opportunities in this category like travel, fitness, accommodation.
Entertainment
Who wants to be bored?
In this entertainment category in Cameroon, MTN's Yabadoo is popular.
These kinds of apps invoke a kind of dependency, they keep us engaged, logged in, always checking for updates.
Pro Tip: Concentrate on the bright side. Combine your imagination and talent. Bring lots of fresh and fun things in our lives, so we will never be bored again.
Great examples are: Netflix (Android), Dubsmash (Android), Talking Tom Cat (Android), Amazon Prime Video (Android), NBC – Watch Now and Stream Full TV Episodes (Android)
Tools
Utility apps are great. We use them to accomplish specific tasks.
Think of scanners, trackers, first aid manuals, flashlights to name a few. The downside to apps in this category is the fact that people use these category of apps to just get things done and move on. They'll not spend time in it.
Imagine you want to travel. For convenience, you use WakaTicket to book a bus. When you're done, what will you be doing in this app again?
Pro Tip + Disclaimer 🙂 A utility app Cameroonians will surely spend time in will be an app like Bitmoji – Your Personal Emoji (Android)
Health and Fitness
I don't know about fitness in Cameroon.
But I know about GiftedMom.
If you're a mother-to-be, through GiftedMom, you can get advice based on your pregnancy stage. If you have a new-born baby, you can read about special care. You can also reach out to their medical team on duty via chat and get reminders about your doctor's appointment.
You'd be surprised how many women forget their doctor's appointments.
Want to Build an App in Cameroon? Now You Know: The 7 Most Popular Categories in Google Play Store.
You know! Building an app in Cameroon requires your ability to solve problems. However, there are many Cameroon built apps which are not profitable for their creators. This is not good for any profitable venture. While building an app may seem appealing, think also of the business side of things.
What useful Cameroon apps do you know? Share them with us.
Looking for a first-class institute to study Android App Development?
WhatsApp Now for details about this program.